Animal Print Creative Grooming Designs Ideas 2022
Animal print creative grooming designs from passionate professional groomers. By using the OPAWZ safe pet creative grooming products, groomers transform the pet into a walking piece of art!
Grooming Theme: Animal Print
Congratulations to the winners and thank you everyone for participating and voting! Winners were determined by number of most likes in the OPAWZ Global Group on Facebook.
Winners for the OPAWZ Animal Print Contest 2022
1st place - Pálffy-Szabó Dóri

 
2nd place - Christina Lewis Wilt
3rd place - Andrea Delguidice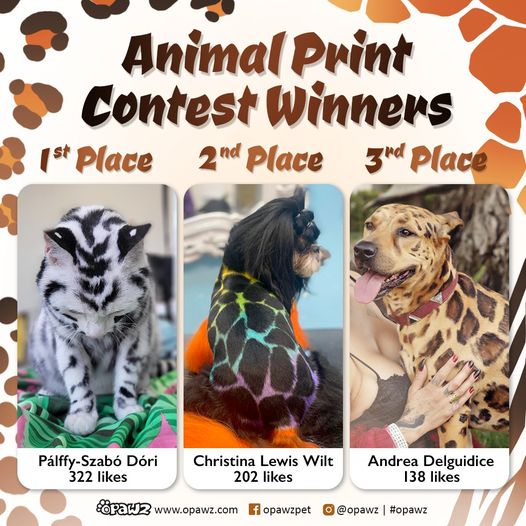 Below featuring the top 3 likes and our selected works from the OPAWZ Animal Print Designs Creative Grooming Contest 2022. 
Thank you to everyone who entered and voted for the OPAWZ Animal Print Creative Grooming Contest.  We have many more fun and exciting contests planned soon so remember to keep an eye out!
 Animal Styles Creative Grooming Tutorials