Unleash Your Creativity With OPAWZ Temporary Pet Hair Dyes
OPAWZ takes pet temporary colors to the next level!
People love to express themselves and pet owners like to change up their pet's look for special occasions, while
permament
&
semi-permanent
pet hair dye lasting for 3 – 6 months, there are safe and temporary options available for you to try.
OPAWZ temporary pet fur coloring dyes are temporary and washable fur dye which is non-toxic and pet safe. Our commitment-free temporary pet hair dyes that lasting just 1-3 shampoos. Temporary pet fur dye make it easy to switch up the pet hair color using a non-permanent pet hair dye alternative and inexpensive to purchase.
OPAWZ Temporary Pet Fur Dye Characteristics
OPAWZ Temporary Pet Hair Dye -  No-ammonia temporary dye for dogs & other animals, the temporary hair dye only works on the surface of fur to add sheer color instantly without altering the naturel pet hair color.


Temporary Pet Hair Dyes - Non permanent color – Temporary dog fur dye washes out in 2 to 3 shampoos, or fades on its own within a few days.


Easy Application – Apply directly on dry & clean pet hair to get beautiful layers of pet hair color, suitable for all skill levels & all the pet that can be bathed.


Pet Safe - Non toxic formula, OPAWZ temporary pet hair dye are made of non-toxic ingredients, with zero harmful chemicals and only ingredients approved safe by federal agencies, its safe to use on family pet hair, not only for pet, but also for you.


Colors show best on white / light coats.
OPAWZ Pet Hair Chalk does not compromise the coat in any way, adhere well on pet's hair with bright and vibrant colors. Works well both on the dark coat and light color coats. Pet chalks available in 12 colors: Black, Yellow, Pink, Purple, Green, Blue, Orange, White, Red, Brown, Grey and Turquoise. 
Suitable for any coat color. Use with grooming spray to set color on pet hair make hair color last longer.
OPAWZ Paint Pens are the best way to temporarily change the pet's color for a creative look. Each set contains ten colors: red, orange, yellow, green, blue, pink, purple, brown, white and black. Each tube rolls up an attractive color and rubs on the pet's hair smoothly. Ideal for both short and long hair pets. 
Easy to apply, can be used directly onto pet's coat. If using on a dark coat, use white chalk as a base.
OPAWZ Blow Pen is a new way to create for pets grooming, simply aim and blow to spray 10 different colors provided (red, purple, orange, green, light blue, dark blue, black, and pink). Used on clean and dry coat, and easy to remove the color by shampoo or soap. 
Easy to apply, best suited for light haired pets, can be used with Tattoo Stencils on short haired coats. For black dogs use white paint pen as a base, then apply a blow pen or airbrush on top. 
OPAWZ Color Paste is an instantly saturated, non-toxic temporary color that can turn your pet's hair into any and all colors of the rainbow! 7 x Glow in the Dark Color Paste colors: Orange, Pink, Blue, Purple, Yellow, Green, and Black. 
Apply a thin layer directly to pet's coat. Use a toothbrush for long coats and fingers for short coats.
OPAWZ Temp Ink is a temporary color ink that specifically designs for pet groomer with the Airbrush. Temp ink colors in 1 set including: Red, Pink, Purple, Yellow, Orange, Green, Dark Blue, Blue, Brown, and Black. 
Best suited for white haired pets. If using on a dark coat, use white chalk as a base. Avoid contact with water after application.
OPAWZ Glitter Gel is a pet temporary styling gel that covers pet's coat in colored glitter and helps to create your own unique pet style, easy-on and easy - off. This pet coat glitter is designed to give pet coats a glamorous presence in any special occasions. 
OPAWZ Glitter Powder is very thin and ready to use, suitable for professional salon groomers or use at home for a quick grooming decoration.OPAWZ ultra-fine, lightweight glitters powder for creative grooming, offer the maximum reflection of light to literally radiate any area they are applied.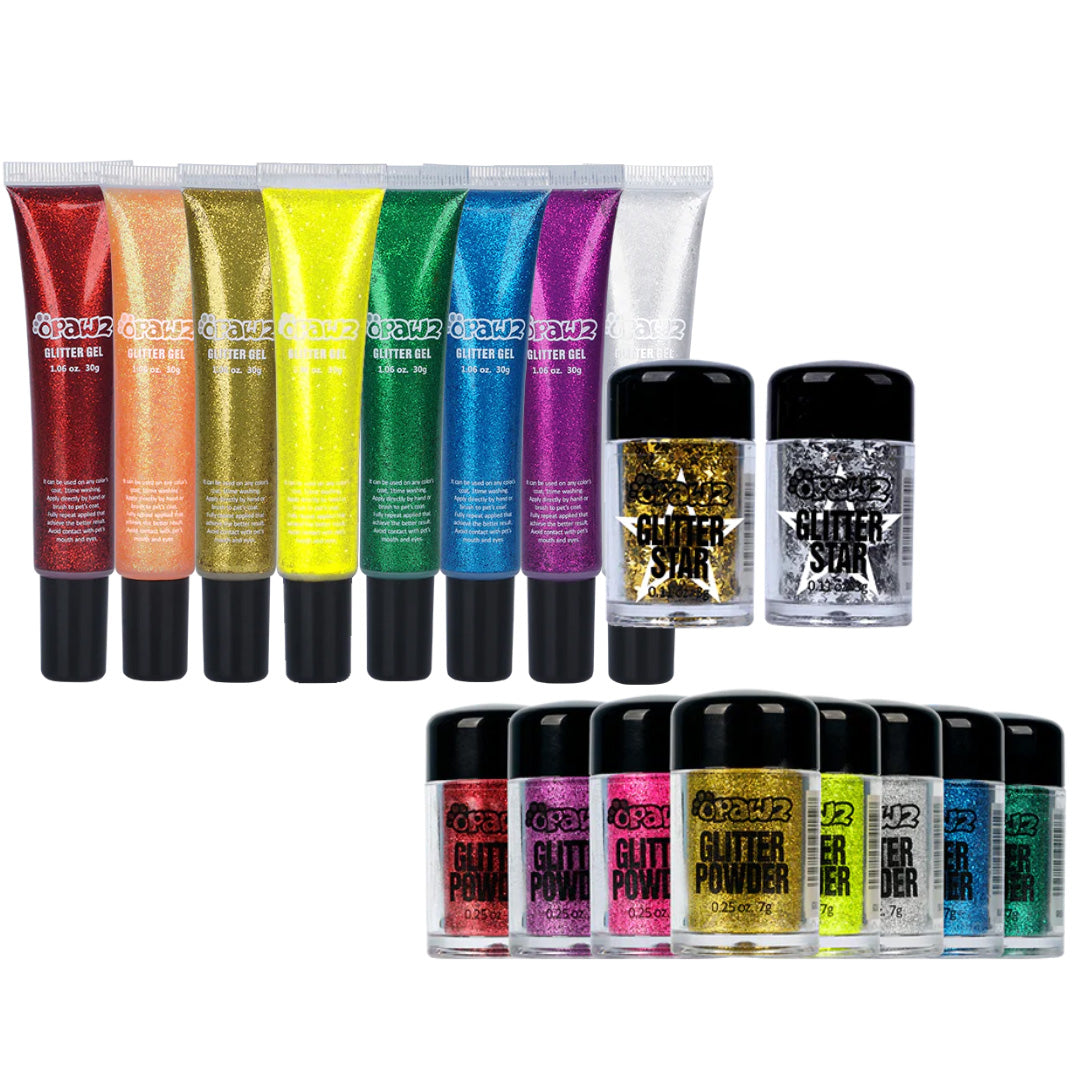 Dye Pet Hair with a Temporary Color
When it comes to dyeing pet hair with temporary pet fur color, it totally depends on what kind of pet's coat color/texture and what kind of effect you would like.  
Always read the instructions to ensure that you're using the product correctly to achieve the results you want.
White Coats Color the Best. If you want to see the brightest color on your dog, your best chance is on a dog with a white coat. Light-colored coats also tend to show color well.
Generally, washable temporary pet hair dyes should be applied to dry coat either before or after it's been styled and then should be left in the hair without washing or getting it wet at all.
With some temporary pet hair colors, the tint may rub off on clothes after you've applied it. To avoid that, seal the color in with a Grooming Spray.
Before you use a new pet hair dye product, be sure to do a small test spot to ensure that your dog doesn't have an allergic reaction. 
For a quick overview of our full product line and tutorials, visit the OPAWZ Product Guide >>