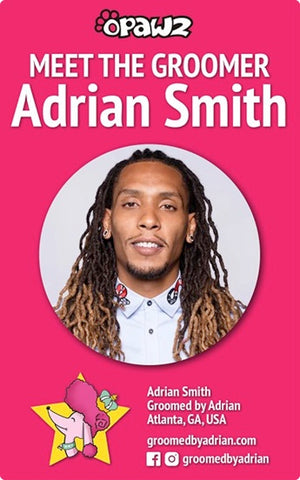 OPAWZ CERTIFIED GROOMER
Adrian Smith
Groomed by Adrian
Atlanta, GA, USA
Website: groomedbyadrian.com
Instagram: groomedbyadrian
Facebook: groomedbyadrian
About Adrian Smith
Charismatic. Stylish. Genuine. Professional.
These are just a few attributes that describe 31-year-old New Orleans native and Groomed by Adrian owner Adrian Smith. He is the happy parent of the late Porscha (Shih Tzu and Pomeranian mix), Tesla (Standard Poodle), and Bentley (Standard Poodle), and of course, his talking Macaw parrot, Penelope.
Adrian's affinity and passion for the well-being and care of animals have truly been the fabric of his life. Shaping and guiding his career. Although he pursued other carrer paths, becoming a professinal pet groomer is something that immediately resonated with him and stuck.
As an animal enthusiast and avid rescuer, Adrian began taking in stray dogs from the streets and finding them safe and loving homes. During his youth, he knew saving animals what he wanted to do for the rest of his life. With one major financial decision, Adrian changed the trajectory of his life by clearing out his savings and purchasing professional clippers and grooming tools. He then began grooming his own pets and others in the community. Adrian dreamed of being one of the best self-taught grooomers, continuing to hone his craft with study materials, videos, and a lot of practice.
In 2012, Adrian met a sweet woman battling breast cancer, who couldn't afford to have her dogs groomed. Inevitably, the dogs were extremely matted and in poor condition. Adrian knew he needed to help. When the woman saw her groomed dogs, she dropped to her knees crying tears of joy- and Groomed by Adrian was born!
A firm believer in "dream-chasing",  Adrian lives by the following mantra:
"It's never too late to follow your first love – and succeed!"
Creative Groomer Q & A with OPAWZ
How did you get started?
I have always loved colors and I loved being "flashy and extra". So when I got a dog of my own, it was top on the list to dye her hair. Once I started grooming, I started incorporating color into my grooms very slowly in the beginning. Most times I offered it for free or very cheap. Now creative is 80% of my clientele. I've been grooming now for 5 years. Started off doing in home mobile, opened my first grooming salon in 2019 and opened my second salon in New Orleans this weekend.
How do you handle criticism?
When I first started sharing my creative grooming online I used to hear a lot of hatch critics. Back then (years ago) I used to be very combative and defensive. But nowadays it doesn't bother me nearly as much. It's so much easier to just ignore and block them now. It's not worth the energy.
What is your favourite opawz product to work with, if any?
My favortite OPAWZ products are the colors (pet hair dyes) of course!! They are so vibrant and take very well. I rarely have to apply a second coat and it can take on not freshly cleaned coats.

What is your favourite breed to work with, if any? 
If you know me you know that I am definitely a poodle guy! I love poodles!!! Tesla, my poodle is a Pink Princess.
How do you deal with more difficult clients?
When dealing temperamental pets it's best to be patient, and easy. You really have to build the bond between you and the animal. Try not to push the dogs beyond its limits of comfortablility. Make it as pleasant and experience as possible and it will get easier with time.
Any advice for aspiring groomers? 
If you are an aspiring groomer my best advice to you is to get started. I'm proof that you don't have to have formal trainning to have a successful career in the grooming industry. Build those relationships with the clients, educate yourself and remember " if its meant to be, it will be."
The Pooch Perfect Experience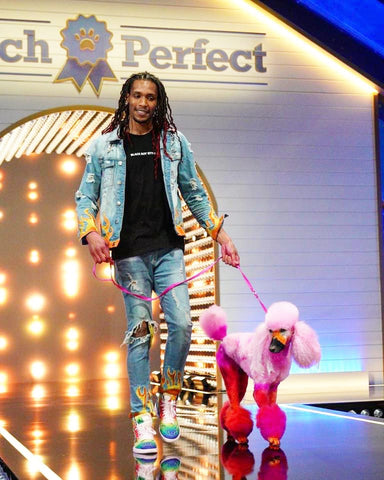 At the time I was already in talks with 3 other production teams about other grooming shows coming out before I heard about Pooch Perfect. A client forwarded me a flyer and I applied the same night. They reached out to me the very next day. They wanted more pics of me, my work and to know more about me. About 15 Zoom meetings later they let me know I was perfect for the show and that I was selected as a cast member.
I honestly always pictured myself on TV in some form of fashion. I originally moved t Atlanta from New Orleans to pursure a modeling and acting career. I didn't have the funds to continue to pursure it so I had to let that dream go and get a real job. I've never competed before but I knew I had the " look" and was overly confindent in my skills. It was the perfect fit. And at the time it was the biggest show I was being considered for so of course it was my first choice.
For me the most difficlut part of the competition was literally going up against some of my grooming idols. And COVID. We had to strictly quarantine a month prior to the show. Production had us in a hotel for a week. We literally couldn't leave or order our own food. It was tough lol. Most mornings we had to be camera ready at 6am and wrapped filming around 10 pm. Long long days.
The best part of the show honestly is the relationships I've build with the ast members. Most of us are still in contact and will be friends for life. They all inspire me so much. I actually thought I was done with grooming. I thought I would focus on opening successful salons across the country. But after the show I'm so inspired to learn more and get myself out there in the competition ring.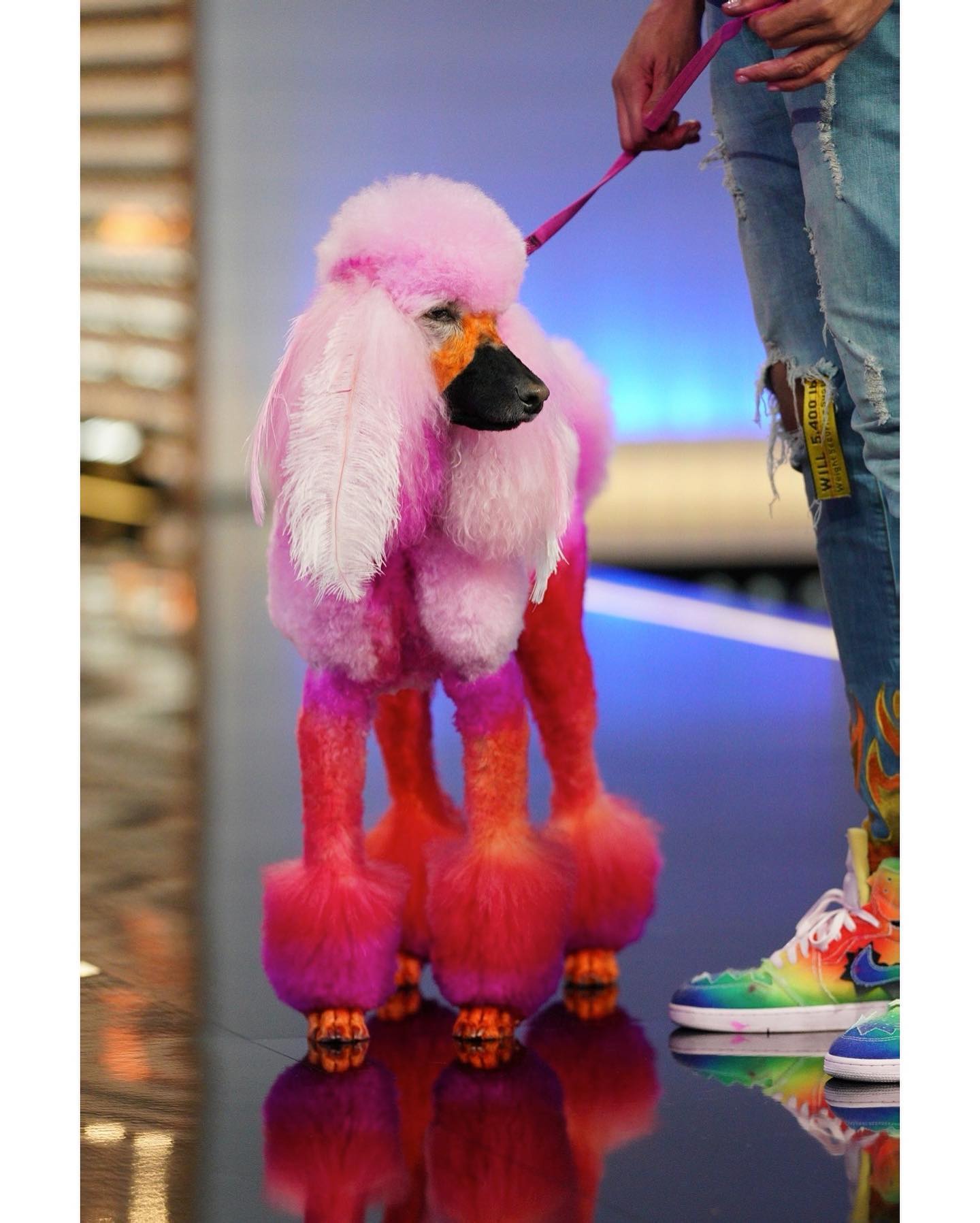 What are your takeaways from the show?
I've learned from my experience that anything is possible. My only regrets were that I didn't practice a lot more. That was my first time ever carving in a coat, that was my first time curling a dog's hair, frist time doing a complex creative design, and my first time ever grooming an Afahan.
Yet, I surprised myself. I wasn't expecting to come up with some of the things I came up with. After I saw the competition I never expected to make it as far in the competition as I did. I was literally up against the best of the best in the world.
I have lots more comments, I can go on and on. All of the cast were great and we've built great friendships. Jorge isn't harsh as the show made it seem.
What was your favorite memory from the show?
My favorite episode and memory all was during the pride episode. I was the most pleased with that design. I won the goat challenge. And the dance off during the pride episodes were forced but very fun lol.
I think the show has inspired a new era of new creative groomers or groomers in general. I know each of us has inspired so many and the best is yet to come.
Selected Works From Adrian Smith