If you're exploring different avenues for creative dog grooming certification, OPAWZ has four distinct options for those looking to get their feet wet in the creative pet grooming industry.
★Creative Grooming Educator
★


★Creative Grooming Master

★


★Creative Grooming Expert

★


★Creative Grooming Specialist

★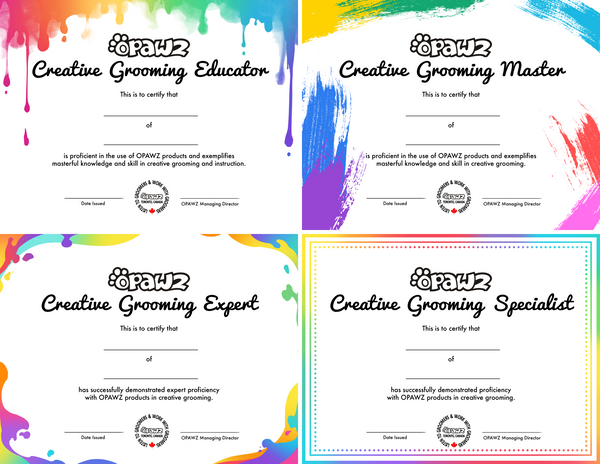 OPAWZ Creative Grooming Certified Groomers List>>
OPAWZ Certifications offer all groomers the opportunity to participate in an innovative creative grooming networks with fellow creative groomers worldwide, as well as provide a way that may have their creative grooming skills evaluated and certified.
Individuals holding the OPAWZ certifications validated their creative grooming skills in the area of :
Proficient in the use of OPAWZ pet-safe grooming products
Great creative grooming techniques & designs
Professional dog grooming skills
Pledge to pet grooming safety
Groomers/Salons will receive a frameable certificate to display in their business.
Obtaining the OPAWZ grooming certification afford you the confidence to better serve your furry clients in the creative grooming field. Receiving the certifications show your customers your professional knowledge of creative pet grooming and you're serious about a career as a creative dog groomer.
To be certified by OPAWZ,  Submit your creative grooming works done with OPAWZ by email to  sales@opawz.com
We also check social media so tag us on Facebook, Instagram, and TikTok with #opawz and @opawz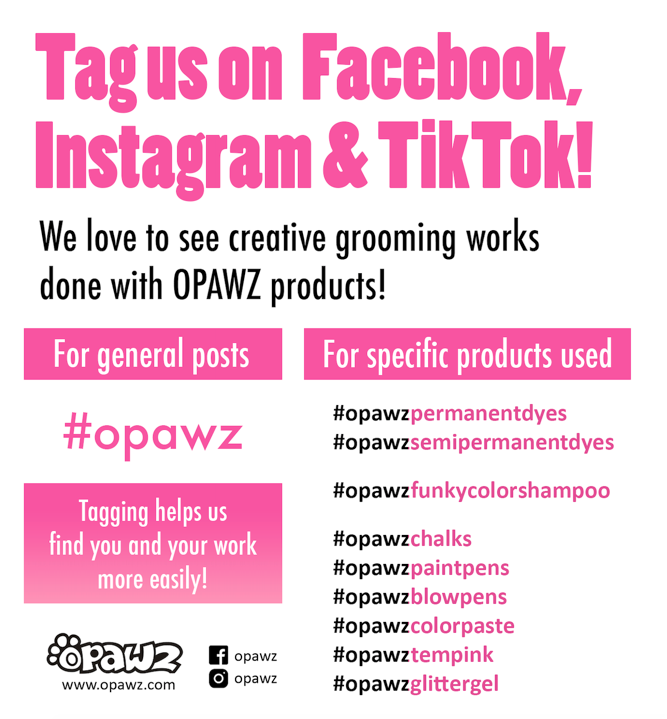 Whether you're looking to start a new career or just want to learn more about creative grooming, to stay current with the creative grooming industry trends and to exchange creative dog grooming ideas, methods and opinions with groomers around the world, join OPAWZ creative grooming community for continuing education & knowledge, networking, enhancement of your creative grooming skills with creative pet stylists and creative grooming professionals around the world.
Professional creative grooming makes the pets happier!