Ready for Halloween with Your Dog?
Transform your pet with OPAWZ safe dog color dye makeover with these fun & fabulous creative dog grooming live tutorials from professional dog groomers for Halloween celebration! More professional creative grooming live tutorials will be coming in soon!
Get super creative and turn your furry friend into anything with pet-safe color dyes for dog. Great creative dog grooming tutorials for Halloween including skeleton and tiger designs and more! 
Skeleton Dog Design from Samantha Hum with OPAWZ pet safe dye
Tiger King Inspired Design from
Lindsey Dowling

with OPAWZ dog safe dye

 
Spiderman Design from Rachel Baker Ross with OPAWZ safe pet hair dye
OPAWZ pet-safe hair dyes
The most important thing to remember is to not use hair dye for humans on your pet, as they can be toxic. Always use a dog -friendly color dye such as OPAWZ. And avoid dying your pet's hair if they have a skin condition or have irritated or itchy skin to prevent further aggravate the wound.
How Long Does OPAWZ Safe Pet Hair Dye Last?
The longevity of OPAWZ dog-friendly hair dye will vary based on the pet's coat and the kind of pet hair dye you use. Some color dyes will last a day or two and are designed to wash out after a single bath, while others may last for up to 20 washes for a permanent result.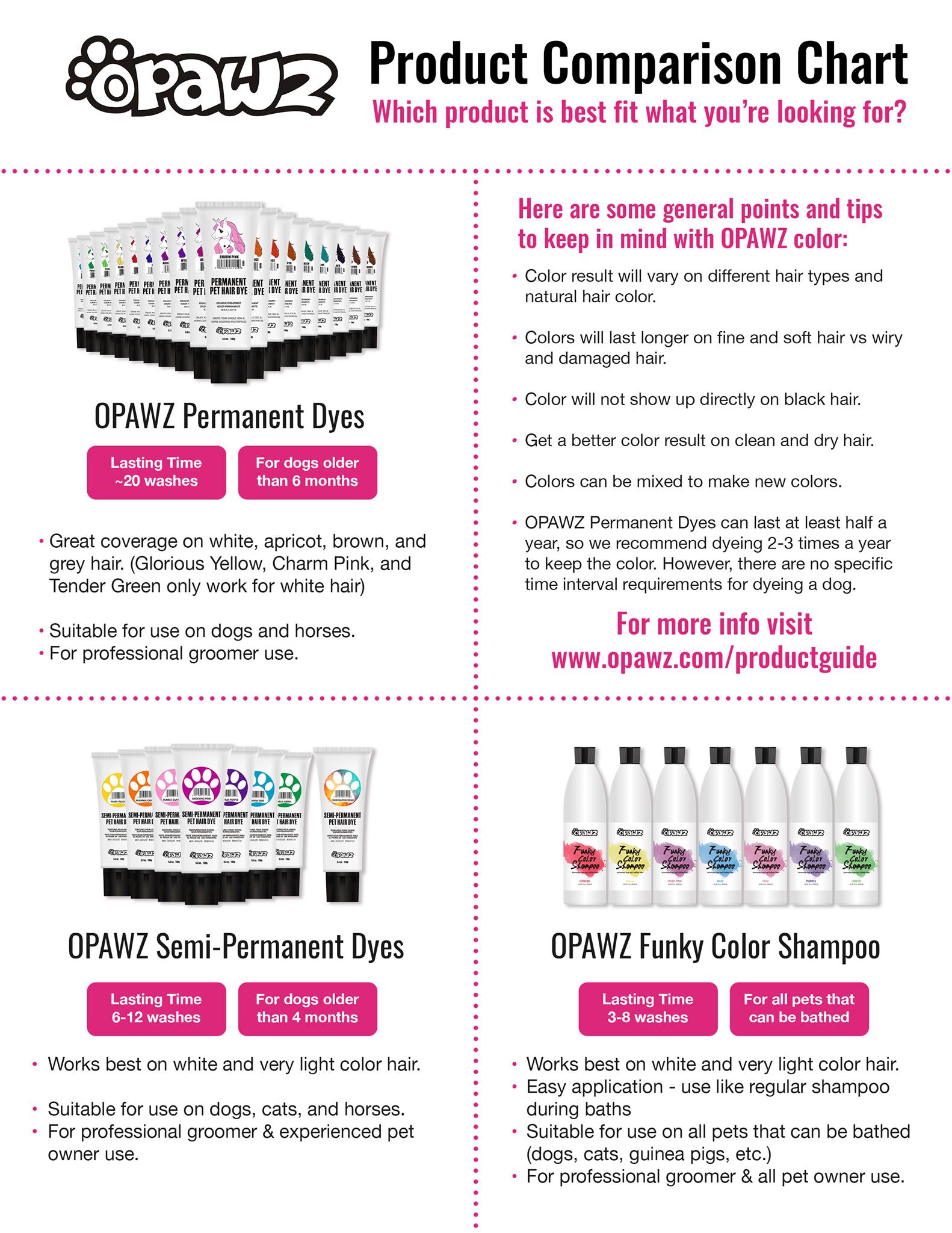 How to Dye Dog Hair Safely?
Wondering how to dye dog hair safely? 
It is typically okay to dye your dog's fur as long as you do everything safely and properly.
Make sure to check your pet's fur and skin for any scratches or open sores to prevent aggravating them and causing your pet pain.
Complete a strand test on a small area first, ideally on the lightest part of your dog's coat. Also, make sure to avoid getting the permanent dye around your dog's face as it could be unpleasant if it gets in their eyes or nose. The temporary color dye can be an alternative instead since temporary dye is gentle to pet's skin and easy to wash off.
Avoid human dyes that could be unsafe for your pet.
As long as you take the proper precautions by sticking to the instructions on the packaging, dying the dog's hair can be a fun way to honor an occasion or celebrate a holiday. Your pup will be sure to turn heads when you enter the party!
Pet safe dye is a great idea, but if you are unsure, the best way to ensure your dog's safety and comfort for creative dog grooming is to have a professional groomer dye their hair.
Remember to explore and have fun
Keep in mind that these are just some Halloween dog grooming ideas; the sky's the limit for creative grooming ideas for pet groomers.
For pet salons, you can do many things to make the experience for your customers memorable and get them excited to come back. So get creative with your pet grooming business
in a spooky and fun ways to engage with your clients this Halloween!
You're now ready for Halloween pawty time! 
Limited Offer!
Halloween safe pet dye Value Packs, available until October 31st