Pricing Tips for Creative Grooming-OPAWZ Dog Grooming Business Tips & Tricks
By Allison Brooks
The Paw Spa of Georgetown USA
My clients LOVE the big dye projects I post and imagine their pet with a little color or even a full transformation for Halloween! They often ask about color services and the first question I get is "How much does something like this cost?"
Usually, the answer is not that simple! There is a lot to consider when dyeing a pet besides the price, especially that not every pet is suitable for a color transformation. If the pet's health checks off, I'll continue to explain to the client the dyeing process. Something simple like ears or tail would start at $15 on top of the groom for a small dog. Ears/Tail Grooming Designs Often if I have a regular client that I can tell seems to be really into it but not sure about the price increase, I might even offer to do the first time for free. I offer this since dyeing pets is something I enjoy doing and allows me to create content for my business pages.
When pricing your color services, it's very important to charge for the products you are using.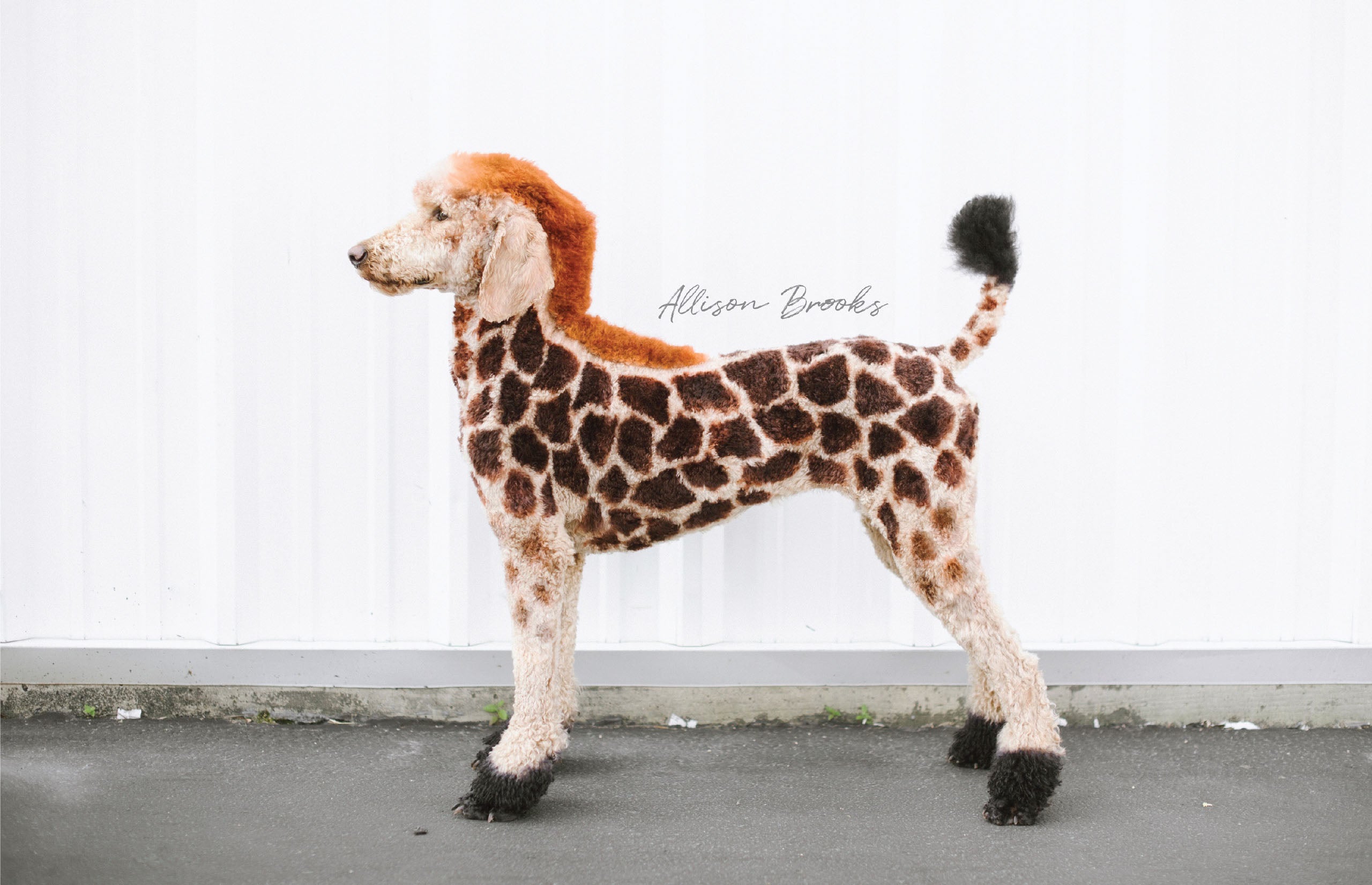 Something like my giraffe creative on the standard poodle took 4 tubes of OPAWZ brown dye alone and was done over the course of a couple days for the comfort of the pet. A large project like that could easily run a client $350 once you charge for the groom, color, products, and of course your time.
A simple way to get your clients into color is to start small.
Like a stencil! OPAWZ offers blow pens that are incredibly simple and allow cute, temporary changes for a special event or just because! I'll often run stencil services as an add-on to raise money for organizations and charities. If you want to get your name out there for coloring services, this is a super easy way to do it! Charge $5 per stencil and donate the money to a cause you believe in. Not only will their pup be cute strutting around with their new tattoo, but you'll be raising money for a good cause and get all those cute pictures because we all know you want to make that social media post that blows up!
As long as you and the pup are having fun, and you are using OPAWZ dye that is safe for our canines, you really can't go wrong with what you charge. Sometimes a new dye project is just what you need to bring yourself out of that groomer funk.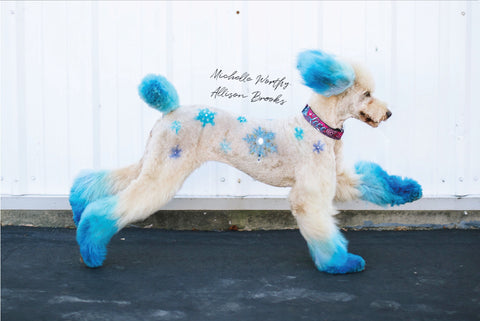 Charge for your product and time, and then go have some fun!
For more grooming ideas visit OPAWZ Creative Grooming Showcase.